Autumn 2.
I am extremely pleased how quickly the children have settled into Year 2. We have had a great first half term and the children have been working really hard. Mrs Beck and I are very pleased with their behaviour and it is lovely to see the children working independently. Thank you so much for your support through this half term with their home reading and homework projects. The children are very proud of their homework projects and are looking forward to showing them off after half term.
If you have any questions/queries please do not hesitate to contact me by email:
Mrs Welsh & Mrs Beck
Below is our class timetable.
This will give you an idea of what your child is learning throughout a week. However some changes are made from time to time.
*Change to PE days*
Children will take part in PE on a Monday morning with Premier Sports from 11am - 11:50am. Children should come to school on a Monday in their PE kit and they will wear it for the remainder of the day. Year 2 will also have PE again on a Friday afternoon, therefore should wear their PE kit to school on a Friday too.
Dates to remember...
Year 2's Class assembly Tuesday 8th November
Sports hall Athletics@ college 10am -12pm Thursday 10th November ( letter to be sent )
Key Stage 1 Christmas performance Tuesday 6th December - time to be arranged
Wednesday 7th December - 6pm
Homework project due in Friday 9th December
General Information:
The school day
Timings: Drop off/Pick up point:
Year 2 start time: 8:45am Drop off: Main playground
Year 2 finish time 3:05pm Pick up: We will meet you on the playground at Year 2's gate and send children
one by one to parents as we see them arrive.
What will my child need to bring to school?
Full school uniform - All items labelled
A warm coat (labelled)
A water bottle (water only)
A small healthy snack
A lunch bag (if needed)
Please ensure all personal items are labelled before sending them into school.
Read Write Inc
Read Write Inc is the program we have chosen as a school to teach children the sounds needed to read. There are 44+ sounds that children need to know so they can sound out/Fred talk any unknown words. As children build their knowledge of these sounds, they will in turn develop their fluency. This means children will be able to read words, with the sounds they know, at a glance. It is vital children can read fluently in order to understand what they have read.
See below for a list of all the sounds children need to learn in Year 1 and a video on how to correctly pronounce them.
This half term the activities on the homework grid are based on our history topic - The Great Fire of London. The tasks will cover a broad range of the curriculum including English, Maths, Science, Art, PE, History and Music activities. Children can complete as many tasks as they wish, choosing ones that interests them most. This will further their understanding/learning in our termly topics.
Spellings
Spelling homework will be sent home every Monday afternoon. Children will get 10 spellings per week to learn and they can practise these on their weekly spelling grid sheet. We will have a spelling test every Monday morning. The spellings given each week will link to our literacy lessons.
The children are learning how to estimate on different number lines. We are also spending ten minutes each day learning quick recall of addition facts within ten, counting to 100 and counting in tens from any number up to 100.
Below is a free app that would be really helpful to your child to increase their fast recall of maths facts. Its called One Minute Maths by White Rose and regular practise of this would be so beneficial.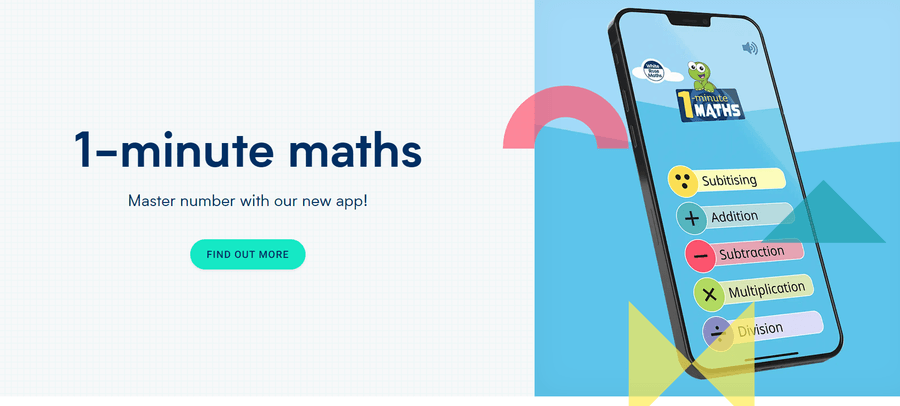 MyMaths
Children have their own login details for MyMaths. The codes needed are in the front of their homework book as well as instructions on how to navigate the MyMaths website if you are not familiar with it. Every Wednesday I will allocate a task for children to complete at home online - linked to our maths learning that week. Children will have a week to complete the task set. Please encourage this at home as it will further their understanding/consolidate maths learning.
I also recommend the games on Mymaths to improve the children's fluency with mental maths.
Colour by numbers - Year 1 adding within 10 and year 1 subtracting within 10.
Tug of War - Years 1 and 2
Add it up - Year 2 ( 3 minute timer)
This half term the children will be reading these fantastic books about the Great Fire of London. They have amazing illustrations and are very factual and interesting.
The children will learn lots of new vocabulary linked to this topic and will continue to develop their sentence writing by writing a recount and diary entries.
Our trip to Liverpool World Museum - October 2022
We had a fantastic time at the museum. The children behaved perfectly and loved every minute of it! Although the coach ride was a long one nobody complained and more importantly no one was ill! The children really enjoyed looking for things that were alive, had been alive or had never been alive as part of their science work. The workshop was really interesting and we all learnt lots of facts about starfish - adults included!
Here are a few photos from the trip and there will be more in our class assembly. Thank you so much for supporting this trip, it was worth it. Lots of children said 'It was the best day ever!' and we couldn't do it without your support. :)
Reading Books
Children will be given reading books to take home every Monday.
Our reading focus in Year 2 begins with developing children's fluency in line with their knowledge of sounds. Children will use Book Bag Books in order to do this. It is highly recommended that you and your child work through the activities suggested to support their fluency when reading and understanding of the text. ( These activities are stapled to the inside cover of your child's reading record.)
Please use the SWAYs below to refresh your memory on how to use Book Bag Books effectively and the previously mentioned activities.
Children should read at least 3 times per week and this should be recorded in their reading diary. Each reading activity from the Book Bag Books counts as a read alongside any other reading experiences e.g. sharing a Bingo Book. The name of the book title and a signature is all that is required when recording your child's reading.
Useful Information on how to use your Book Bag Book at home!
In addition to their Book Bag Book children will be bringing home a Bingo Book and a non-fiction book which they can choose from our class library. These books are sent home with a view for you to enjoy them together. It is not expected that your child will be able to read these books independently.
Get Epic
We are encouraging children to continue with their use of Get Epic. To login to access your child's books , go to www.getepic.com/students. Then click on students and enter our class code _________ and read as much as you like! I will assign some new reading material on here weekly in line with the topic we are learning about.
There are now 2 options to explore the website:
During school with Epic School: From 7am to 4pm, students can log in from anywhere using their class code and read for as long as they want between 7am to 4pm. Educators can access Epic School at any time or day. Epic School is always free for our educators.
After school with Epic Free: In addition to all the reading time that they get with Epic School, students can also read after-school or after 4pm for free on Epic Free. Epic Free is also available for students to access at any time on the weekends. But unlike Epic School, there is a time duration limit! Students can read on Epic Free for up to 2 hours per week. Also, students will need their parents' help to unlock Epic Free with a parent email. Parents only need to provide their email address once during sign-up. There is no fee for for Epic Free. After the first log in, students can freely access Epic Free using the class code. They will transition between Epic School and Epic Free, depending on the time of day.
Unfortunately, this change in terms means that some books are not accessible on the Epic Free version.